Timber harvesting operations need to employ many different kinds of machines which are special to logging and forest road construction work, fuel treatment and many other kinds of forest management activities within forests.
Many such specialized machines are built for its purpose, size and designed as per the exact requirement of that particular forestry task that is assigned. All these logging machines can be grouped into 4 categories, based on the forestry function
Logging
Landing
Road
Service.
Let us discuss briefly about few different logging machines in this post.
This is a kind of chargeuses a bois which is called in English as wood loading loader, that can carry small and short logs from stump and they are carried to roadside for further transportation.
Forwarder can also be used loading logs to various trucks so that they can be taken for further machining.
short-log cutter and small-tree faller are meant for cutting and falling of small trees in a controlled direction, delimbing and cutting the tree into logs.
There is also an automated cutting head which can be optimized by on-board computer for cutting of logs and also can work on discreetly steep slopes.
This is a tree faller and makes the tree to fall in controlled direction and then places trees to make piles. This feller-buncher can also work on a moderately steep slope.
This is another kind of tree faller which has got wheeled machine cuts and makes the trees falls in controlled direction and places trees in piles. It can also work on gentle type of slopes.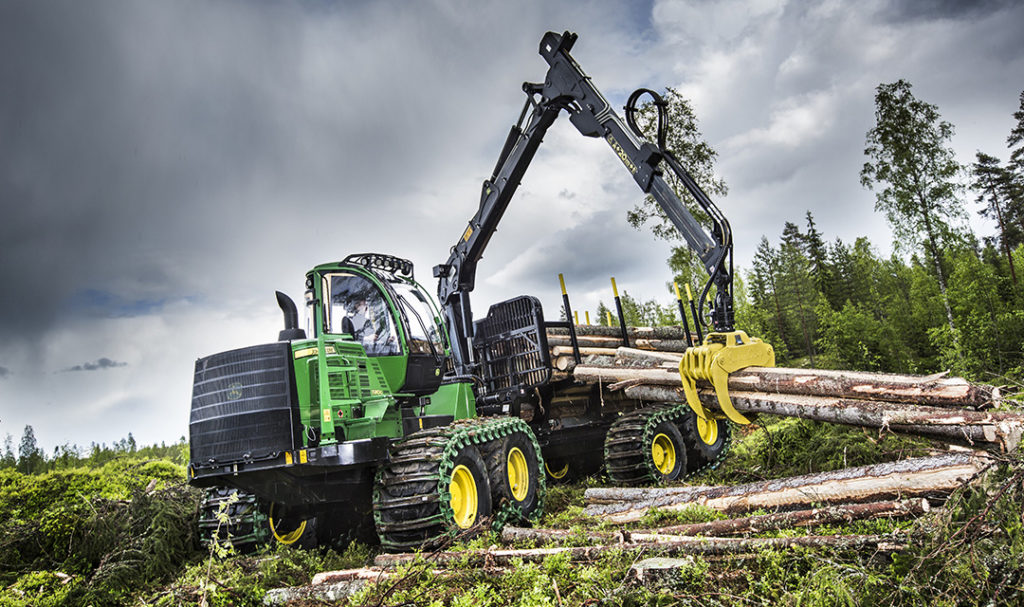 Small wheel feller-buncher
This is a small tree faller with wheeled tractor-sized machine cut and make the tree fall in controlled direction and then places them in piles. This is suited for thinning on any gentle terrain.
This small tracked machine having mulching attachment can easily grind thick forest limbs and also tree tops in the woody mulch which is meant for reducing fire hazard, also can prepare for reforestation.
This mulcher is available in different configurations and sizes which is wheeled, tracked and front/boom-mounted.
This kind of mobile machine can easily clear the roadside brush that is tracked or wheeled machine powers boom-mounted grinding head which is moved to roadside in order to cut limbs & any other vegetation.
The machine will clear roadsides of all unwanted brush overgrowth which clog roadsides.